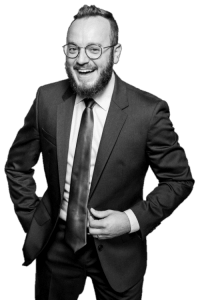 Georg Mayer
Projektmanagement (klassisch & agil)

Qualitätsmanagement

Prozessmanagement

Agile Transformation

Organisationsentwicklung & Strategieberatung
Georg Mayer ist einer der beiden Deltaminds-Gründer. Aufgewachsen im oberbayerischen Voralpenland ging es zum Studium "Maschinenbau & Management" an die Technische Universität München. Seit seinem Berufseinstieg in der Unternehmensberatung hat sich Georg methodisch auf Projekt-, Prozess- und Qualitätsmanagement spezialisiert. Mit Hilfe seines ausgeprägten Know-Hows im Bereich Agilität verbindet er nun leidenschaftlich gerne die "klassische" mit der "neuen" Arbeitswelt.
Als erfahrener Experte im Bereich Produktentwicklung und Agilität unterstützt Georg in seiner Rolle als Projektleiter, agiler Coach und Trainer unsere Deltaminds-Kunden in unterschiedlichen Projekten dabei, ihre Ziele zu erreichen und ihre Projekte erfolgreich umzusetzen. Mit seiner offenen, kommunikativen und pragmatischen Art ist er eine positive Bereicherung in jedem Team. Dabei liegt es ihm besonders, komplexe Sachverhalte zu erfassen, erklären und gemeinsam im Team Lösungsansätze zu entwickeln.
Seine Freizeit verbringt Georg am liebsten mit seiner Familie im eigenen Garten oder auch gerne im Oldtimer-Unimog-Cabrio mit 57 km/h Höchstgeschwindigkeit auf den Landstraßen der Umgebung.
Michael Bacher
Agile Transformation

Organisationsentwicklung & Strategieberatung

Agile Tools & Methoden 

Change Management

1:1-, Rollen- & Team-Coaching
Michael Bacher ist einer der beiden Deltaminds-Gründer. Geboren und aufgewachsen im schönen Chiemgau ist Michael aber nun seit mehr als einem Jahrzehnt fest in München verwurzelt. Mit dem technischen Hintergrund eines Maschinenbaustudiums (Schwerpunkt Fahrzeug- und Motorentechnik) spezialisierte sich Michael auf seine Herzensthemen rund um Agilität & New Work. Als Experte für agile Frameworks und Methoden liegt sein Fokus dabei vor allem darauf, unsere Kunden auf dem Weg in eine neue Arbeitswelt zu begleiten.
Neben klassischer Beratung im agilen Kontext begleitet Michael seit Jahren groß angelegte agile Transformationen und Veränderungsvorhaben als agiler Coach und Facilitator. Zudem ist er als Trainer spezialisiert auf die agile Befähigung des Management ("Agile Leadership"), die Aus- und Weiterbildung agiler Schlüsselrollen sowie das Coaching "on the job".
Privat ist Michael unser "Hobby-Barista" und immer auf der Suche nach dem besten Espresso der Stadt. Wenn am Wochenende Zeit ist verbringt er gerne die ein oder andere Stunde auf dem Golfplatz.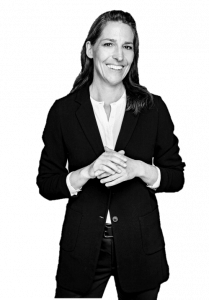 Ulrike Rogler
Design Thinking

Agiles Projektmanagement

Nutzerzentrierte Produktentwicklung

Innovation Coaching (Innovationsmanagement)

Systemisches Coaching (1:1, Team)
Als diplomierte Produktdesignerin befasste sich Ulrike Rogler nach dem Studium einige Jahre in Lehre und Forschung mit Designstrategie und -kommunikation sowie der Vermittlung und Begleitung eines iterativen, nutzerzentrierten Vorgehens bei der Entwicklung innovativer Lösungen und Produkte.
Ihr Know-How vertiefte sie als Innovation und Design Thinking Coach in Organisationskontexten und erweiterte ihre Kompetenz durch eine Weiterbildung zur Systemischen Coach.
Heute verbindet sie beides mit Leidenschaft und begleitet und unterstützt Menschen, Teams und Organisationen bei den Herausforderungen von New Work, Innovation und agiler Produktentwicklung.
In München geboren, lebt und arbeitet Ulrike in der Nähe von Stuttgart. Ihre Freizeit verbringt sie am liebsten mit ihrer Familie mit Sport, Städtetrips und in Museen. Hin und wieder überkommt sie die Gestaltungswut, dann versucht sie sich als Laien-Silberschmiedin oder baut alte Rennräder zu Single-Speeds um.
Stefan Friedrich
Agile Leadership

Agile Transformation

Agile Coach für OKR und Scrum

Projektmanagement (klassisch vs. agil)

Organisations- & Strategieentwicklung
Stefan Friedrich ist in Nürnberg geboren und aufgewachsen bevor es Ihn zu seiner Ausbildung nach München zog. Dort lebt er nun schon seit über 15 Jahren und hat seine neue Heimat gefunden. Über verschiedene Bildungswege mit Ausbildung und Studium hat Ihn stets die Leidenschaft zu Autos begleitet. Nach seinem Berufseinstieg als Konstrukteur hat sich Stefans Fokus über seine Rollen als Projektleiter, Teamleiter und Projektmanager immer mehr von der Technik hin zu Prozessen, Methoden und Beziehungen entwickelt. Seit mehr als 5 Jahren ist Stefan nun Experte für agile Arbeitsmethoden mit Schwerpunkt auf Transformation, Training & Coaching sowie Objectives and Key Results (OKR).
Was heißt Agil für Stefan? Für Ihn steht der Begriff für Effektivität und Effizienz gepaart mit einer attraktiven Organisation. Sprich, das Richtige gemeinsam richtig tun. Auf dem Weg zu diesem Ziel begleitet er Organisationen und entwickelt mit ihnen partizipativ bedarfsgerechte Lösungen. Dabei hilft ihm seine offene Kommunikation und sein empathischer Charakter.
In der Freizeit schafft er seinen Ausgleich zum Arbeitsalltag im Sommer beim Segeln in seiner kleinen Jolle auf dem Ammersee oder im Winter auf der Skipiste im Salzburger Land.
Sabine Kensy
Agile Tools und Methoden

Konzepte und Management von Trainings

Prozessmanagement

Application Management

DevOps Management
Sabine Kensy ist als IT Allrounder immer ganz nah am Geschehen, ihre Welt ist in jeder Hinsicht agil. Die letzten Jahre verlegte sie ihren Schwerpunkt immer mehr hin zur Methodik, wo sich nicht nur das einstige Studium der Soziologie, sondern auch die langjährige Erfahrung im Trainingsbereich auszahlen.
Ihr methodisches, didaktisches und auch technisches KnowHow gibt ihr das perfekte Rüstzeug an die Hand, um als Agile Coach Projekte, Produkte und Teams effizient zum Erfolg zu bringen.
Die alteingesessene Münchnerin geht in ihrer Freizeit Bogenschießen und DiscGolfen oder lebt ihre Leidenschaft für Geschichte als ambitionierte Hobbyfotografin aus.